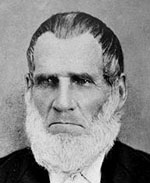 Ellen White writes of her husband, Elder Joseph Bates, Father Pierce, and Elder Edson and "MANY OTHERS" :
[Older brethren among the pioneers are here thus reminiscently referred to. "Father Pierce" was Stephen Pierce, who served in ministerial and administrative work in the early days.]
"My husband, Elder Joseph Bates, Father Pierce, Elder Edson, a man who was keen, noble, and true, and many others whose names I cannot now recall were among those who, after the passing of the time in 1844, searched for truth. At our important meetings, these men would meet together and search for the truth as for hidden treasure. I met with them, and we studied and prayed earnestly; for we felt that we must learn God's truth. Often we remained together until late at night, and sometimes through the entire night, praying for light and studying the word. As we fasted and prayed, great power come upon us" —Ms 135, 1903 (November 4, 1903) par. 1.
"The history of the early experiences in the message will be a power to withstand the masterly ingenuity of Satan's deceptions" Ellen White, Letter 99, 1905.
( c. 1804-1883). One of the pioneer Seventh-day Adventist ministers; conference administrator; writer and editor. He was born and reared in Vermont, and was apparently an earnest Millerite. He was one of the group who with James and Ellen White, Joseph Bates, and Hiram Edson, "after the passing of the time in 1844, searched for the truth as for hidden treasure" ( 1SM 206; see Sabbath Conferences ). For a number of years in the late 1850s, he was a corresponding editor of the Review and Herald. From 1863 to 1865 he was president of the Vermont Conference. In late summer of 1865 he moved to Minnesota and was recommended by the General Conference Committee to the churches there as a faithful and efficient minister. From 1865 to 1870 he was president of the Minnesota Conference. His later ...
Stephen Pierce
Looking at the Whole Truth (Fred Bischoff), page 1
Stephen Pierce–Mentioned in the Spirit of Prophecy, page 2
1 John 4:16–God is Love (Elder Stephen Pierce; Review and Herald, May 13, 1880, p. 309), page 3
Stephen Pierce… Hesitant. Helpful. (timeline and biographical sketch), page 4
Worldly and Heavenly Interests Contrasted (Stephen Pierce; Review and Herald, Sept. 26, 1871, p. 117), page 7
"Father Pierce" at the Sabbath Conferences (1 Selected Messages, p. 206), page 8
Elder Pierce on Wisdom (Review and Herald, Oct. 13, 1868, pp. 201-3), page 8
The Subtlest Way to Make the Testimonies of Non Effect (A. LeRoy Moore; June 9-15, 1992), Insert (PDF),
The Ben. in Vermont felt so deeply over it, that Elder Stephen Pierce came on to
Battle Creek, to have an investigation of the question. Meetings were held some three days
studying the subject, in which we all became satisfied that the position of Eld. Pierce was correct.
Bro. and Sr. White both agreed to it. Bro. Pierce's position was that "the law" in Gal. referred
to the whole law system; and the law system was the moral law as a rule of life, and the
ceremonial law as a means of recovery from sin, or justification from sin, or the transgressions of
that moral law. (MMM 304; Oct 30, 1900).