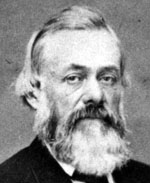 Action and On a Large Scale and Without Delay–That was the Spirit of Joshua V. Himes (timeline and biographical sketch) (Marlene Steinweg), page 4
Joshua Himes
Article: 
Empowered to Lighten the Earth (Ray Foster), page 1
Editorial Prowess (Comments from the preface to Vol. III of Miller's Works, Boston, J. V. Himes, 1842), page 2
Scoffers Shall Come in the Last Days, page 2
Camp Meeting (Marlene Steinweg), page 3
Action and On a Large Scale and Without Delay–That was the Spirit of Joshua V. Himes (timeline and biographical sketch) (Marlene Steinweg), page 4
Dear Brethren and Sisters, (N. Southard; The Midnight Cry, Vol. VII, No. 15, New York, Friday, October 11, 1844), page 8.
Read Joshua Vaughan Himes Wiki Biography here.